Hawaii Farm Bureau Federation and Maui County Farm Bureau Announce Partnership with Hawaii Superferry
August 27, 2008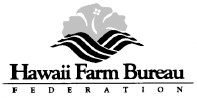 Hawaii Superferry's Island Agricultural Product Discount Program provides 30 percent discount for transport of locally made and manufactured goods
HONOLULU - The Hawaii Farm Bureau Federation and Maui County Farm Bureau announced a partnership at a press conference today with Hawaii Superferry, who is extending a 30 percent discount to qualified farmers and merchants when shipping locally grown and produced goods on Hawaii Superferry. The new partnership will help Hawai'i's farmers and businesses expand to new markets and provide them with another important mode of daily transportation to efficiently and cost-effectively move their products inter­island, help maintain the sustainability of agri-business in Hawai'i and provide consumers with more and better produce choices.
"We applaud businesses, like Hawaii Superferry, who are committed to keeping our local farmers viable, as well as help keep Hawai'i sustainable," said Hawaii Farm Bureau Federation President Dean Okimoto. "For consumers in Hawai'i, this new partnership also translates into produce that is fresher and with a longer shelf life."
Hawaii Superferry's ship, the Alakai, is outfitted with onboard reefer plugs that allow refrigerated trucks to maintain the same temperature throughout the voyage, a feature that helps produce maintain a longer shelf life and ensures that only the freshest products are delivered to the consumer.

"Agriculture is a vital part of the economy and lifestyle of Maui County. This partnership not only positively impacts our local farmers and agricultural industry, but, in turn, means more choices and better produce for Hawaii residents because a greater variety of produce will be able to be transported inter-island more efficiently," said Maui County Farm Bureau Executive Director Warren Watanabe.
The 30 percent discount off of Hawaii Superferry's vehicle fares applies when qualified farmers and businesses are solely carrying fresh agricultural products grown wholly in Hawai'i. This includes, but is not limited to, pineapple, sugar, fruits and vegetables, coffee, hay, whole eggs, juices (not in retail cans), macadamia nuts, onions, potatoes, milk, meat and poultry, livestock, flowers, and flowering ornamental plants. Also included are products made from agricultural products grown in the islands, such as processed meats, coffee or poi.
"It was always the intention of our service to help local businesses expand to new markets in ways they've never been able to before," said Hawaii Superferry's Commercial Sales Manager Kelly Kauahi. "We recognize that inter-island transportation is an important link between our farmers and their markets, and in maintaining the sustainability of agri­business in Hawai'i, and are happy to do what we can."
"The economic challenges that Hawai'i residents are currently facing have brought increasing attention to the benefits of buying local," said Sandra Kunimoto, chairperson for the Hawai'i Department of Agriculture. "Supporting locally grown produce and other goods keeps the money flowing through our community versus supporting agribusiness outside of our state."
Fares for passengers, including drivers, are not in included in the discount program. Farmers and businesses must apply and qualify for participation in the program, with applications available for pick-up at Hawaii Superferry's corporate office at One Waterfront Plaza, 500 Ala Moana Blvd., Suite 300, Honolulu, HI 96813 or downloaded at http://www.hawaiisuperferry.com/agdiscount. Applications can also be obtained by contacting the Hawai'i Farm Bureau Federation in Honolulu at 848-2074 at email: atakemoto@hfbf.org or Maui County Farm Bureau at email: warrenmcfb@hotmail.com. Completed applications must be returned to Hawaii Superferry's corporate office to the attention of the Commercial Sales Department. There is no charge for the application.
The Hawaii Farm Bureau Federation (HFBF) is a non-profit organization of farming families united for the purpose of analyzing problems and formulating action to ensure the future of agriculture thereby promoting the well-being of farming and the State's economy.
The Maui County Farm Bureau is the a grassroots 501(c)(3) organization of farms and ranch families, agricultural industries, and associated organizations dedicated to supporting agriculture in the Maui county. We are affiliated with both the statewide Hawaii Farm Bureau Federation and the American Farm Bureau.
###
Contact:
Alan Takemoto
(808) 848-2074