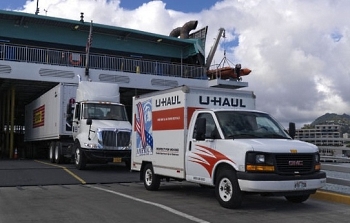 Let Us Take Your Products to Market. Now there's a fast, secure, and affordable option for moving goods from one market to another. Commerce has never been more convenient, with the efficiency and ease of drive-on, drive-off ferry service on Hawaii Superferry.
Daily sailings between and O'ahu and Maui allow timely delivery and turnaround at the destination port.
Make same-day door-to-door deliveries in your truck or van.
Ship securely, predictably, and economically.
Expand your distribution to other islands.
Get fresh produce from field to market within hours.
Reefer power points (230 V/60 Hz) are available onboard for refrigerated vans and trucks. The ship can accommodate vehicles as large as semi-trailers, up to 14 feet high.
No loading and unloading at the cargo terminal. Eliminate intermodal cost, time, damage and shrinkage. The driver handles and controls the shipment from departure to delivery. Drivers simply pull up to the Hawaii Superferry vehicle check-in station, hand the attendant all required documents, and drive on the ferry. Vehicles disembark from the vessel immediately upon docking.
Let the sea be your bridge to new and existing customers.
For advance reservations, call our commercial sales department at (808) 853-4115 or you can send us an email.