Hawaii Ferry Travel
A unique travel experience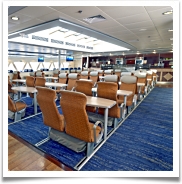 Freedom to move around
The 350-foot long Alakai Hawaii ferry accommodates up to 800 passengers. It is built for speed and comfort. Best of all, there is plenty of room to move about freely throughout the Hawaii Superferry. We invite passengers to walk around, go exploring, and find the perfect spot on Hawaii Superferry. A cheerful décor enhances the mood and environment in which to enjoy your Hawaii ferry voyage.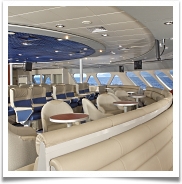 Seating to suit your needs
No reserved seating assignments. Choose relaxing leather sofas, comfortable reclining armchairs, or restaurant-type dining seats on Hawaii Superferry. Armchairs along the sides and quiet nooks are also available for computer-users who want to take the time to catch up on work.
About our Premium Lounge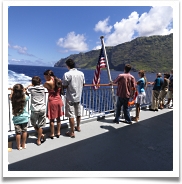 Get some ocean air
The observation deck on Hawaii Superferry is located at the aft of the vessel, where one can enjoy fresh air and unobstructed views. You can also marvel at the foamy wake churned out below by our four 12,000 horsepower jet engines.
Freedom to take your vehicle on Hawaii Superferry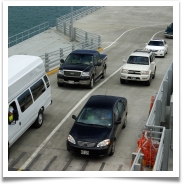 When you travel with us on our Hawaii ferry, you can bring your car, eliminating the need to check-in your luggage. Travel with the confidence that your valued items are not lost or mishandled. Whether it's an extended stay or a day trip, Hawaii Superferry can accommodate a variety of passenger and commercial vehicles. Passengers drive their vehicles on and off the ferry and remain onboard during the voyage. Vehicles disembark from the vessel immediately upon docking at the destination port.
Entertainment options for all ages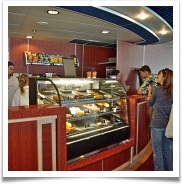 Dining
The Galley on our Hawaii ferry at the mid section of the vessel features dishes created with the finest local ingredients. An assortment of salads, sandwiches, and soups are a few of the items available. Surf Break Lanai is in the aft section of the vessel, where guests can enjoy a cold beverage and a selection of food choices and entertainment on flat screen televisions featuring sports and local programming. The Hawaii Superferry Hahalua Lounge, available for a $20 upgrade, offers extra spacious comfortable leather seating, as well as a complimentary welcome beverage, food item and newspaper.
View the complete menu for food and beverage items and prices.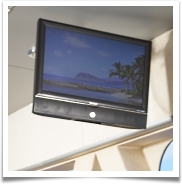 Live television
There are 34 wide-screen TVs for viewing live television, sports, and educational programming. A favorite gathering place is the Surf Break Lanai at the aft of the Hawaii Superferry where guests can enjoy a cold beverage, ono pupus, and watch sports telecasts.
Kid play area and arcade
There's a play area for keiki as well. The Manta Cove Playroom is a safe, contained area where children can enjoy activities under the supervision of their parents. The playroom has highly durable foam pieces for toddler to climb over or sit on while they enjoy appropriate themed movies. There's fun for the older kids as well in the Video Game Room. There are nine game stations, offering 100 family-friendly games. Amazingly, a three-hour Hawaii Superferry cruise goes by too quickly when you're engaged in arcade games.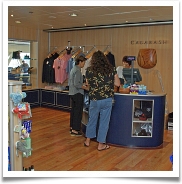 Shopping
The Calabash is a unique gift shop at sea that bridges the islands by offering a collection of exquisite items such as Hawaii Superferry logo wear, spices, home ware, purses, lotions, soaps and toiletries that are "made in Hawaii." The shop is also stocked with newspapers, fresh fruits, snacks, and sundries. You'll also find a Concierge Guide, where passengers have access to reference manuals for ground transportation, airlines, hotels, hospitals theatres, shopping malls, special events calendars, churches and much more.
It's so cool. Inside and out.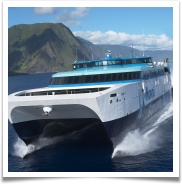 Our catamaran-style Hawaii ferry is well-suited for Hawaiian ocean conditions to provide a smooth and stable ride. Built by Austal, one of the world's largest builders of fast ferries, the vessels incorporate the most advanced marine technology and safety standards.
One of the most important features is the Hawaii ferry's catamaran design - inspired by Polynesian double-hulled canoes - which enables family-friendly, high-speed transport over Hawaii's open ocean waters.