Alternative to Hawaii Interisland Flights
Top 10 Reasons to Set Sail

1. It's a new experience. Now sailing between Honolulu, Oahu and Kahului, Maui. Try Hawai'i's first and only interisland passenger and vehicle ferry for a unique, fun travel experience. A new alternative to interisland flights from oahu to maui.

2. See four islands on one voyage. The coastlines and landscapes of O'ahu, Maui, Moloka'i and Lana'i can typically be enjoyed on every voyage.

3. Affordability. One-way fares starting at $39 and $56 one-way vehicle fares are now available (additional fees & taxes apply).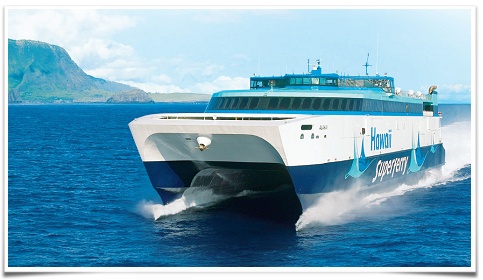 4. Travel with ease. Bring your rental car on the ship and drive on and off with all of your belongings; no waiting at baggage terminals.
5. No extra baggage fees. Pack your luggage, golf bags and children's gear in your vehicle at no extra charge.

6. Freedom to walk around. Voyagers aren't confined to their seats, with wide wheelchair-accessible galleys, dining areas, gift shop and an open-air rear deck, and our premium lounge.

7. Convenience. Take the ferry and avoid having to get on Hawaii interisland flights and the stress of long lines.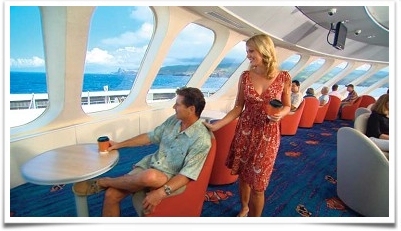 8. Unique day trip opportunity. Visitors to O'ahu can take a day trip to Maui in the morning and return later that evening. (Seasonal)
9. Cost-effective two-island vacation experience. Visitors to Hawai'i can divide their vacation between the islands of O'ahu and Maui more cost-effectively.
10. Great family travel experience. During the voyage children can enjoy the ship's Manta Cove play area, video arcade or movies and other programming available on flat-screen TVs located throughout the ship.